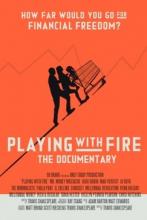 The FIRE movement (Financial Independence, Retire Early) is... well on fire.  Mr. Money Mustache, the Mad Fientist and others have pushed the idea that you do not have to follow the cultural norm of working full time for 40-50 years before retirement.  Just out in theaters only is the documentary Playing with FIRE.  
Playing with Fire showcases a radical subculture known as FIRE, that embraces frugality and financial optimization to achieve financial independence. Follow one family's journey to acquire the one thing that money can't buy: a simpler — and happier — life.
Buy tickets here: https://www.tugg.com/events/playing-with-fire-07jb
Your ticket will get you into the after-party where we will have refreshments, panel discussion and social time with like-minded people.  
Meeting time
6:00 PM - 9:00 PM
Meeting location
Regal Cinemas 2825 W Main St, Bozeman, MT 59715