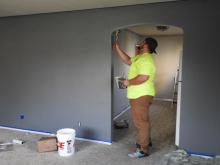 We will hear from several Montana house flippers.  They will each present a recent project and talk through some of the challenges of flipping houses.  There will be plenty of time for panel discussion so please bring questions.  
Paul Bottomley will talk about his recent project in Billings.
Ryan Mix will also cover a recent rehab in Billings.
Jay Miller's topic is new construction, from planning to sale.  Focus property will be in Stevensville.  He will go over briefly, location, county/city planning, HOA, plans, funding, construction and marketing/sales.  That sounds like a lot, but it will be fairly high level, providing more details during question/answer time.
Meeting time
6:00 PM - 8:00 PM
Meeting location
Springhill Inn and Suites: 1601 Baxter Lane, Bozeman